Exhibiciones dentro del
7o. FESTIVAL INTERNACIONAL DE CINE DE MORELIA

4 FUNCIONES
Dentro de la Sección Michoacana - Programa 1
Domingo 4 de Octubre 2009
Teatro Emperador Calzontzin, Pátzcuaro Michoacán
18:00 hrs. Entrada Libre
Lunes 5 de Octubre 2009
Cinépolis Plaza Las Américas, Sala 5, Morelia, Michoacán
18:00 hts.
Martes 6 de Octubre 2009
Centro Cultural Clavijero
20:30 hrs.
Jueves 8 de Octubre 2009
Cinépolis Centro, Sala 3
16:00 hrs.
Animation short film by
Víctor Martínez Díaz
Duration: 30 Min.
based on the short story by Cordwainer Smith
Voices:
Concepción Reséndiz, Icetrip and
Victor Martínez

Inspiring Music by
The Future Sound of London, Hecq, Plaid, Paraone, Louis,
Bebe Barron, Tokee, cEvin Key, Venetian Snares, Ulrich Schnauss
PREFACIO
Advertencia sobre la historia, la veracidad de los hechos esta siempre en tela de juicio
Warning about the contents of the story. The truth of facts is always in question..
Warning a
Este projecto obtuvo el apoyo del Fondo Nacional para la Cultura y las Artes de México y The Banff Centre en Alberta Canada
:The film project got the support of the National Funds for Arts and Culture of Mexico and The Banff Centre, Alberta, Canada

La Sirena de la cápsula de ayuda encontrada en el espacio.
The Siren that gives the help message, found in the middle of nowhere in outer space
El Comandante Suzdal a punto de partir en su misión acompañado de los hombres tortuga quienes dirigen la nave mientras el duerme el sueño criogénico. Los hombres Tortuga viven mil años, pasan generaciones en el trancurso del viaje mientras que Suzdal solo despierta por pocos dias, completando un total de 2 años despierto solamente.
Commander Suzdal and his feloow companion the Turtle People, ready to start the voyage.
Momento crítico en el que Suzdal es forzado a tomar medidas extremas para escapar de los temibles Klopts. El oficial de seguridad le advierte de la ilegalidad de sus acciones.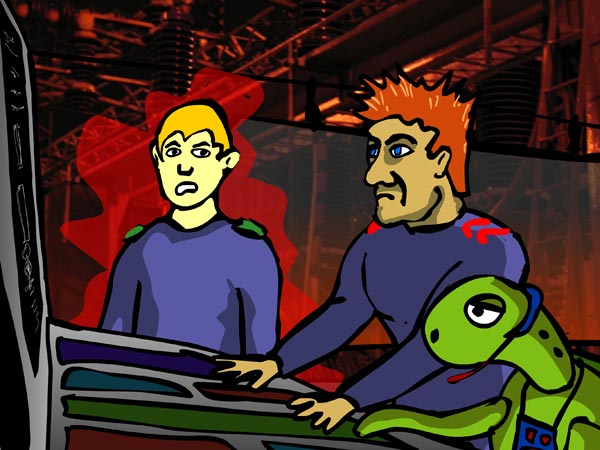 Stresfull moment when Suzdal has to take illegal actions to escape from the evil Klopts.