Participación en el Mes del Performance Berlin de artistas mexicanos. Curaduría de Roxana Flores y Víctor Martínez.
Conferencia sobre el performance en México.
Performances en vivo de
ICETRIP
ROXANA FLORES
VICTOR MARTÍNEZ DÍAZ
Performances en transmisión en vivo de:
PAOLA PAZ YEE
KATIA TIRADO
HORTENSIA RAMÍREZ
Selección de performance en video de:
Lorena Orozco, Hortensia Ramírez, Katia Tirado, Mirna Manrique, Roberto de la Torre, Victor Martínez, Sonia Renard, Volker Schoenwart, Icetrip, Yoshua Okón, 19 Concreto, Rocio Boliver, Laura García, Paola Paz Yee, Elizabeth Romero.

Galería KGB 44 Kreative Gesselschaft Berlín, Riksdorf, Neuköln.  
7 de Mayo 2013
Mexican performance at the Month of performance Art in Berlín. Curated by Roxana Flores and Victor Martínez.
Lately news from Mexico floods us with images of violence and surreal stories, which seem to be the script of a very bad horror movie, or an extreme reality TV show, in which the whole country is taking part. Everything is crossing the line, which is an expression for saying things are going too far. The line is also  a way to call the Mexican-US border and on this performance day , a group of  the most relevant names in the Mexican performance art scene will be crossing borders using virtual realities and other media as an extension of their bodies, interacting in real time between Berlin and Mexico City.

Performance "Density" de Victor Martínez

Performance "Density" de Victor Martínez

Icetrip, instalación y performance

Icetrip, instalación y performance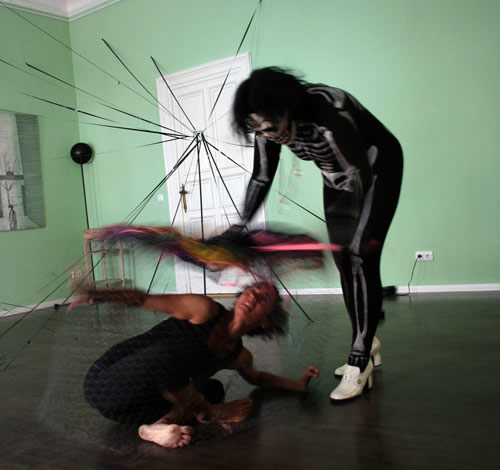 Performance de Roxana Flores

Performance de Roxana Flores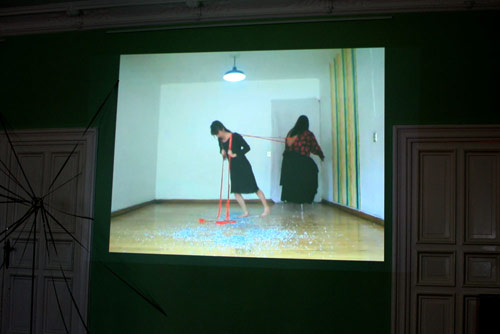 Acción en transmisión en vivo desde México D.F. de Paola Paz Yee

Acción en transmisión en vivo desde México D.F. de Paola Paz Yee

Acción en transmisión en vivo desde Jaumave, Tamaulipas, Mexico de Katia Tirado

Acción en video de Hortensia Ramírez

Acción en video de Laura García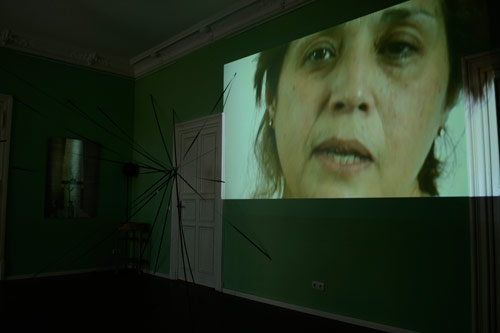 Acción en video de Elizabeth Romero

Acción en video de Lorena Orozco